WHAT'S NEW WITH IT WORKS!
March 11 - 15, 2013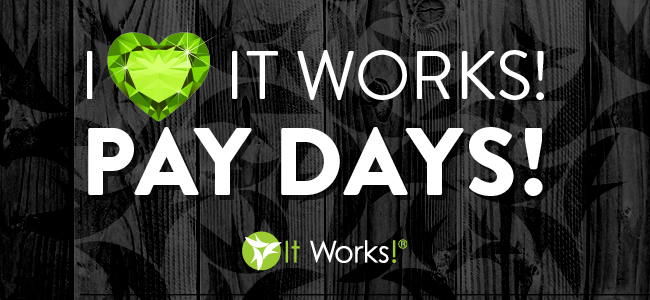 WELCOME TO PAY DAY!
After a record-breaking month, it's time to get paid! February commissions are in the bank!

If you are a new distributor receiving your first commission payment of at least $21, you should receive an activation email today from [email protected] with the URL and login information needed to activate your MyItWorksPay Portal account.

If you have not received the email by 6:00 pm EDT, please check your junk mail file and then submit a ticket under Monthly Commissons with the subject line Pay Portal Activation Email. Please do not call Customer Service as they do not have access to the information you will need.

Hope it was a record-breaking pay day for you!
G.O.O.D. BONUS

Time is running out to qualify for the G.O.O.D. Bonus!

$10,000: If you are an Emerald or below who enrolled prior to 2013 and become a Diamond by March 31, you'll receive the $10,000 G.O.O.D. Bonus! If you enrolled between January 1 - March 20, 2013, and earn the Diamond Rank within three full calendar months, you'll receive the $10,000 G.O.O.D. Bonus!

$25,000: Any distributor who becomes Triple Diamond for the first time by March 31, 2013, may receive the $25,000 G.O.O.D. Bonus!

$50,000: Any distributor who becomes Presidential Diamond for the first time by March 31, 2013, may receive the $50,000 G.O.O.D. Bonus!

5 days remain to qualify for the High Five Bonus: Every new Diamond that you personally enroll between January 1 and March 20, 2013 that qualifies for the G.O.O.D. Bonus may earn you a $5,000 High Five Bonus, if you are at the Diamond rank or above by the time your new distributor reaches Diamond!

Please read the G.O.O.D. Bonus Official Rules for complete details.
GREEN CARPET APRIL 18-19

Announcing the first Green Carpet event of 2013 on April 18 – 19!

Join us for this very special event in the hometown of It Works! Global, Bradenton, FL. Experience Friendships, Fun, and Freedom and the It Works! Way while mingling with fellow distributors and corporate staff. Invite guests to join the party on Thursday for an evening of opportunity, including a visionary message from CEO Mark Pentecost and our recognition ceremony.

Friday is filled with valuable training for distributors, hosted by Director of Marketing Pam Sowder and Director of Sales Mike Potillo. Training is followed with tours of where the magic happens...the It Works! Corporate Office!

Register today at www.MyItWorksEvents.com!


GET RECOGNIZED AT BOOT CAMP!

Those who promoted to Diamond rank and above in February will have the opportunity to be recognized at next week's Dallas Boot Camp! Be a part of the action for all you've achieved!

To be recognized in Dallas you must be registered by 11:59 p.m. EDT this Tuesday, March 19. Don't delay, register for Boot Camp today and save $10 by purchasing tickets in advance!


UPDATED VIP PROGRAM & BENEFITS

We have recently enhanced the VIP program to include two VIP levels, including VIP Elite! Check out the VIP Benefits Overview here and in your eSuite. Please note that the qualifications for the FREEDOM Diamond Party and Dash to the Destination have been updated with details in the overview link above.

If you're not already VIP we encourage you to keep working your way up the ranks to reach a "whole 'notha level"!
CUSTOMER SERVICE CORNER

Please remeber that it may take up to 48 hours for earned Applicator Rewards and BV Rebate Credits to generate and show in your eSuite. Please wait at least 48 hours from the time these bonuses are earned before contacting Customer Service about their whereabouts. Remember, both of these bonuses can be redeemed in the "Orders" tab of your eSuite.

Fast Start Bonuses are paid out on Friday the week following when all the qualfications are met.

Auto-shipment reminder emails are sent out five days prior to an autoship running. However, the receipt of these emails is not guaranteed. We advise everyone to be mindful of their auto-shipment date and to not reply on the reminder email.


IT WORKS! AROUND THE GLOBE

European Union Distributors: Don't forget to include our newly enhanced print materials with your order. The following items have been improved to help YOU grow your business and are available for a low shipping cost in your eSuite now!

Blitz Card (UK946) – 100 pack for $15 USD (GBP Guideline Price £9.38)
Product Pamphlet (UK971) – 50 pack for $20 USD (GBP Guideline Price £12.50)
IT Catalog (UK963) – 25 pack for $30 USD (GBP Guideline Price £18.75)
Applicator Brochure (UK999) – 100 pack for $20 USD (GBP Guideline Price £12.50)
Customer Order Form (UK905) – 100 pack for $25 USD (GBP Guideline Price £15.63)
Distributor Application (UK906) – 25 pack for $15 USD (GBP Guideline Price £9.38)

These items can be easily found when creating a Personal Order in eSuite by selecting "Open Bulk Add" and choosing the category for "Sales Aid". Be a leader and show off your compliant and professional materials today!

Reminder for our new French family, please remember to include
"–FR " after your postal code or you risk delivery conflicts with your parcel.
UPCOMING EVENTS

Bookmark MyItWorksEvents.com to keep track of all upcoming events!

Corporate Events:

• Mar 22-23: Boot Camp: Dallas, TX
• Apr 18-19: Green Carpet: Bradenton, FL

Upcoming One Team One Mission Tour Stops:

• Mar 16: OTOM: Sydney, AUS
• Mar 16: OTOM: Baltimore, MD
• Mar 16: OTOM: Perth, AUS
• Mar 18: OTOM: Boise, ID
• Mar 18: OTOM: Wichita, KS
• Mar 23: OTOM: Southport, QLD